Deer Island & the West Isles -
an Island Adventure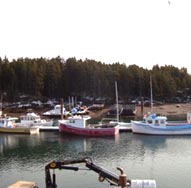 • Whale Watching • Boats •
• Antiques • Photography •
• Gift Shops • Painting •
• Art Galleries • Hiking • Cycling •
• Scuba Diving • Kayaking •
• Beach Combing • Sight Seeing •
• Books • Bird Watching •
• Ferries to Campobello and Maine •
Come to the Islands
down on Fundy Bay!
PLAN A STAY on pretty, un-crowded Deer Island. You'll find accommodations in a small, quiet place, and enjoy meals 'from the sea'. There are beaches and trails, whales and bald eagles. When you decide to explore the mainland every day trip will start and end with a ferry ride. For those who love the undeveloped coast, this is the place to be!
OLD SOW WHIRLPOOL
The Bay of Fundy's currents swirl in great circles between Deer Island Point and Eastport, Maine. Best seen from three hours before high tide; peaks on new and full moons. Best viewed from Deer Island Point or the ferry to Eastport.
THE FISHERIES
Herring Weirs and wooden sardine carriers represent the traditional fishery. Since the 1870's, Deer Island weirs have supplied sardine canneries throughout the region.
Lobster Pounds are located in various coves throughout the island, they function as holding structures where lobsters are kept for shipment to local and international markets. These originated in the late 1920's, and Deer Island is renown for having the 'World's Largest Lobster Pound'.
Aquaculture pens or cages hold thousands of Atlantic salmon smolt which are raised, harvested, then dressed in plants on the island for shipping to market. North America's original aquaculture site can be seen at the mouth of Lords Cove. Hundreds of local and mainland people are employed in this fishery.
Things to Do!
WHALE WATCHING, KAYAKING, DIVING & FISHING IN THE WEST ISLES REGION Enjoy a variety of water adventures and meet our incredible marine and bird life. Minke, Finback, and Humpback whales can be seen frolicking in the waters not far from Deer Island. Our local tour operators will introduce you to the exciting sea life of the whales, porpoises, seals and birds that have made Deer Island and the West Isles their home.
ISLAND VILLAGES
Lambertville, Lords Cove & Richardson: Three small villages at the islands northern end, seen as one by visitors but as individual communities by locals. You can find lobster pounds, wharves, weirs, salmon sites, beaches, breakwaters, scenic turn-outs, public telephones, credit union, churches and grocery stores.
Fairhaven: On the sunny, western side of the island overlooking the Western Passage. Don't forget to get a bite to eat and fill up your tank.
Leonardville: On the spectacular rugged Eastern side overlooking the West Isles. Take a walk through Leonardville at twilight to see the four lighthouses off-shore and the Leonardville Light; it's a nice sunrise walk, too!
VISIT local art galleries and gift shops.
PUBLIC WHARVES
Great spot to talk to local fishermen, do a little fishing and get the feel of being on and near the water.
WALKING, CYCLING & WILDLIFE
Check with hosts as to the best walks to take! The Big Meadow Marsh, Eagle Hill Trail, and Deer Island Point are hot birding spots. Keep an eye out for eagles and osprey overhead, and the numerous beaver colonies near the main and byroads as you explore our isle. Look for deer in the early evenings.
DEER ISLAND POINT PARK
A popular day-use area for locals and visitors. The park includes: beaches, trails, swings, international boundary marker, war memorial, ferry landing, canteen and Canada Customs.